Judges comparing the differences between UST projectors side by side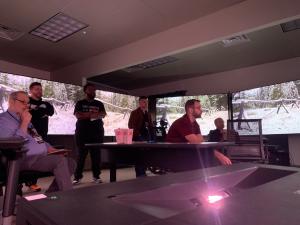 Judges Evaluating UST Projectors
Largest collection of ultra short throw projectors assembled into a battle royale to determine the absolute best. Judges crowned an unexpected winner.
There's really nowhere else where a reviewer can evaluate all the top UST projectors side by side and compare them head to head to find the actual best laser TV."
— Brian Gluck
POMPTON LAKES, NJ, UNITED STATES, November 13, 2023 /EINPresswire.com/ — ProjectorCentral, "The World's Largest Projector Resource" and ProjectorScreen.com, the leading online retailer of high quality projectors and screens, have announced the results of their 2nd Annual Laser TV Showdown.
The October 26 event at ProjectorScreen.com's New Jersey headquarters faced-off nine ultra short throw projectors as a means to compare entrants from the rapidly growing Laser TV market and guide consumers to the best performing options to meet their needs.
What Is A Laser TV
A laser TV (also known as an ultra short throw projector) is an electronic optical device that uses special wide angle lenses and mirrors to "throw" the image onto the screen from a very short distance.
Most regular throw projectors need to be around an inch away from the projection surface for every inch of diagonal screen size. UST close to wall projectors can sit right under and up close to the movie screen allowing owners to experience the grandeur of a gigantic screen in a much smaller space.
These consumer electronics are designed for brighter environments and function as a major television upgrade.
The Judges
The contenders were all set up side by side and paired with nine identical projector screens. Rob Sabin, Editor in-Chief at Projector Central acted as an independent editorial authority to plan and execute the evaluations with a team of expert judges recruited from the audio/video press.
The judges were:
CHRIS EBERLE – Professional ISF-trained display calibrator, display reviewer for Secrets of Home Theater and High Fidelity, display reviewer for Tom's Hardware
ANDY GRIMM – Projector reviewer and contributor for Home Theater Review, display calibrator
JOHN HIGGINS – Managing Editor, Tech, at Reviewed, part of the USA Today Network, ISF-trained display calibrator
MARK HENNINGER – Editor-in-Chief for Sound & Vision, former Managing Editor for Home Theater Review, former Editor-in-Chief for AVSForum.com, THX-trained display calibrator
M. DAVID STONE – Long-time projector reviewer for PCMag.com, veteran contributor for ProjectorCentral.com
CHRIS MAJESTIC – YouTube projector reviewer and influencer at MajesTechs
How The Judges Picked Their Favorites
The projectors were evaluated side by side on identical Spectra Projection Vantage UST Screens using a series of test patterns from the Murideo generators and movie/TV program clips from a Kaleidescape media player, Oppo UHD disc player and DirectTV box, that put each projector to the test.
Every UST projectors in the Laser TV Showdown were calibrated in 3 modes; SDR Day (Bright Room), SDR Dark Room and HDR Dark Room with all calibrations performed by ISF level 3 certified calibrator, Sammie Prescott, JR.
Non reflective divider panels were placed between the UST cinema screens to limit light bleed between the units. Instead of using uneven and harsh lighting coming from the fluorescent ceiling lights, traditional lights were attached to the back of the screens to better simulate the lighting environment one would find in a living room.
The judges were given ballot sheets to rate each projector for specific attributes of picture quality, such as Color Accuracy, Contrast, Black Level/Shadow Detail, and Detail/Sharpness.
While the cost of a laser TV is an incredibly important factor for most shoppers, price was not factored into the rankings; the judging was done purely on the basis of image quality.
Not only were the judges tasked with attributing a score to specific criteria, they were also asked to pick their top 3 overall choices, taking everything about the projector into account and that "Judge's Pick" ranking is how the awards were given this year.
The Winners
Based on the judge's observations, the top spot in the competition for the 2nd year in a row went to the Formovie Theater ($2,999).
It was a resounding top pick for this year's judges with 5 out of 6 choosing it as their #1 pick and the 6th judge choosing it as #2. No other projector in this Showdown was selected by every single judge, let alone with consistent top placement.
This fact that this projector was the overwhelming favorite of the judges earns the Formovie Theater the top spot as the best ultra short throw projector for 2023.
Notably, this projector scored top rankings in every single category of the audio judging.
Based on its #1 ranking by the judges and low price point, ProjectorScreen.com would absolutely still call this one of, if not the top value in the entire ultra short throw projector competition.
In 2nd place was a tie between the Epson LS800 ($3,499) and Hisense PX2-Pro ($2,997).
While not scoring top marks in any specific criteria in this competition, the Epson LS800's overall great performance, high brightness, dynamic contrast and other attributes made the LS800 tie for 2nd place in the eyes of the judges.
The new Hisense PX2-Pro offers vastly improved contrast, brighter output, Dolby Vision support and the Google OS featuring a built-in Netflix app, over its predecessor, the PX1-Pro which finished 4th in the 2022 Laser TV Showdown.
In 3rd place was the Leica Cine 1 ($8,995). While Leica is a brand with a legacy for phenomenal optics with its camera lenses, it is a total newcomer to the projection space. While it is built upon last year's Hisense L9G platform (manufactured for Leica by Hisense), the advantages that the Leica lens packaged inside brings to this last generation model was very apparent to the judges.
Its sharpness was undoubtedly superior to the rest of the USTs in this showdown and per the scorecard, was rated with top scores in all of the detail/sharpness criteria.
The full scoring results for each category, including audio system evaluations conducted after the event with separate judges, are below. For more information on the products and further details about the event, readers can visit the coverage at ProjectorScreen.com (https://www.projectorscreen.com/blog/2023-laser-tv-showdown-ultra-short-throw-projector-shootout)
Photos of the event and hi-res scorecards can be found online here: https://app.box.com/s/qwor63ng425pbjh1o5bodzmk41x7jliu
Brian Gluck
ProjectorScreen.com
email us here
Visit us on social media:
Other
YouTube
Facebook
LinkedIn
Originally published at https://www.einpresswire.com/article/668221124/projectorcentral-and-projectorscreen-com-announce-winners-of-2023-laser-tv-projector-showdown